Space Food/Deep Space Food
ProLact has adopted a flexible approach to market trends in recent years where there is a growth in trade with Private Label products. Therefore, the company offers clients the manufacturing of desired products under their own brand.
Health benefits of ProLact Space Food
Overall ProLact has a completely innovative solution to use probiotics in space, to improve astronauts' health conditions, address space travel related problems, such as:
Good digestion and balanced microbiome, thanks to over 2 billion probiotic bacteria in just 1 gram.
Healthy cardiovascular system and good metabolism, thanks to lowering the levels of "bad" cholesterol and balancing the blood sugar levels.
Bone and muscle strength, thanks to the high calcium and hydrolyzed protein content, as well as the essential vitamins content.
Radioprotective effect, thanks to the biologically active substances, released by the probiotic bacteria Lactobacillus Bulgaricus and Lactobacillus Rhamnosus.
Mental health, thanks to all the essential amino acids and peptides. Best of all these properties have already been proven in space missions, during military operations and scientific expeditions.
What is ProLact Space Food?
ProLact Space Food is an innovative solution to space food systems, by not just addressing the nutritional needs of astronauts, but health issues that they face in space too. It is based on the space food technology used during the InterCosmos space program, which has been significantly improved and optimized by our expert team. ProLact Space Food system is based on a highly concentrated traditional yoghurt, where all the beneficial properties have been preserved and further improved.
The contents of ProLact Space Food are a complex of all essential amino-acids, beneficial peptides, hydrolyzed proteins, carbohydrates, non-saturated fats and all essential vitamins and minerals found in milk.
The InterCosmos Space Food has been clinically and experimentally tested under a wide range of conditions and has proven its excellent properties in military missions, scientific expeditions and for treating patients at hospitals with health issues.
ProLact Space Food is compact - at just 500 grams a day an astronaut could satisfy their nutritional needs, while at the same time consuming an all-natural product. The long shelf life makes ProLact an excellent candidate for the main space food system and for rescue food system too. The long period of testing and its commercial applications over the years prove that the ProLact Space Food system is sustainable.
Long shelf life of ProLact Space Food
Freeze-drying and the natural content of Vitamins C & E, combined with the lactic acid released by the probiotic bacteria during fermentation, allows the probiotic space food to retain its beneficial properties for a very long time. Research conducted at the University of Food Technology in Plovdiv shows that our space food has a shelf life of at least 3 years at room temperature, when stored in an airtight container or packaging. The study was performed utilizing heating and UV light to simulate aging.
It has been estimated that if the product is stored in a vacuum packaging and additional vitamin C & E is added or even a preservative, it could sustain its shelf life for up to 10 years at room temperature. Storing ProLact Space Food at lower than room temperatures could also improve its lifespan, but it is not required.
During the freeze-drying of ProLact Space Food, the "good" bacteria surrounds with a protective coating of proteins and mucopolysaccharides. This process is called natural microencapsulation. The protective shell provides them with a nutrient medium and helps them stay alive and potent at spaceship temperature for years. Therefore, our space food does not need to be refrigerated.
Applications of ProLact Space Food
ProLact is not just healthy and nutritional, but also has a pleasant caramel-cookie like taste, which is naturally achieved during the manufacturing process. ProLact could be molded in various forms and shapes - such as a space bar, milkshake, chocolate bar, probiotic chocolate cream, etc. Additionally, it could be used as a rescue food or food additive to other space food. It could also be used as a fertilizer to enrich the regolith soil.
ProLact Probiotic Space Food could act as an organic fertilizer that provides innovative solution to the usage of regolith soil, by enriching it with essential macro- and micronutrients. What's good for the astronauts is also good for other living organisms - such as plants. ProLact supports soil health, increases nutrient uptake and promotes faster plant growth.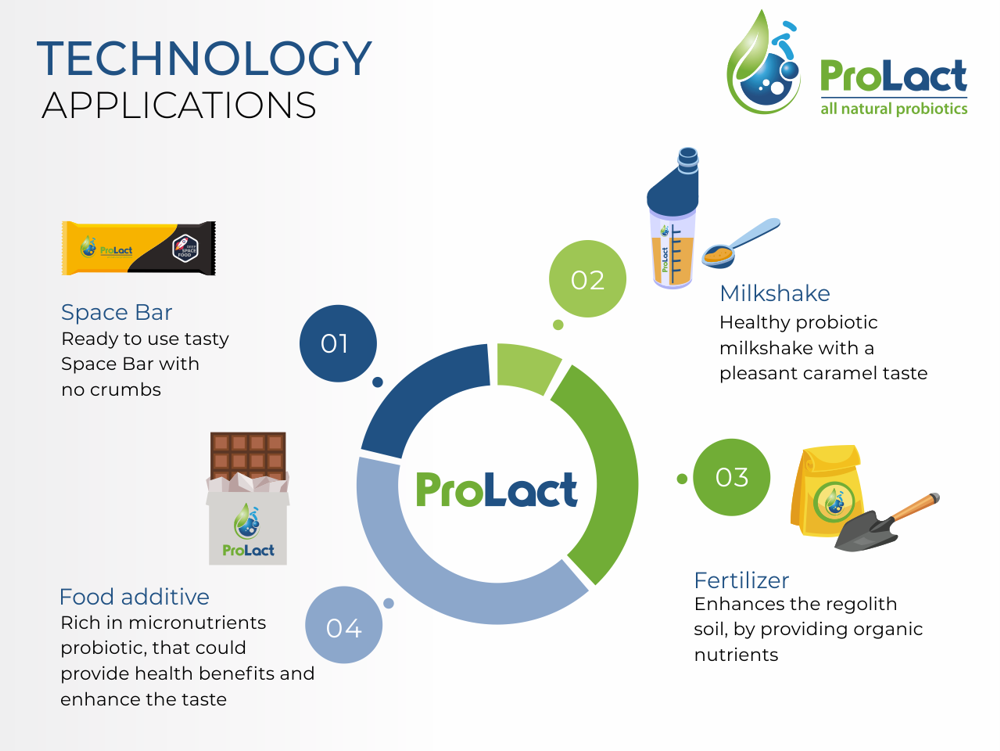 Safety of ProLact Space Food
The process of manufacturing ProLact Space Food is fully safe, as it is carried on the Earth. Requires standard industrial equipment and does not require any machinery or other tools in space. No refrigeration is required too. Manufacturing should conform to GMP and HACCP standards. The Space Food has been fully tested, both clinically and experimentally and has been found to be 100% safe with no pathogens, cancerogenic ingredients or other non-safe components. Furthermore, ProLact Space Food is GMO free, does not contain any preservatives, colorants, soy, cholesterol, no E additives. All probiotic bacteria used for ProLact space food have undergone safety tests using GRAS.
ProLact Space Food has already been successfully tested in space too and has been found to have excellent results on astronauts.